How we arrived at the final list
Over three weekends, 95 Ontarians discussed and assessed Budget Talks ideas at in person workshops in London, Ottawa, Sudbury and Toronto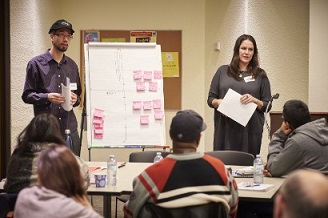 Organizing public workshops
We wanted to give a group of Ontarians the opportunity to be more deeply engaged in the process of coming up with the list of ideas which went to public voting. That's why we organized public, in person workshops.
Over three weekends in November and December 2017, we recruited panels of up to 28 Ontarians to participate in workshops in four cities across the province: London, Ottawa, Sudbury and Toronto. Panels were recruited from the pool of registered users on the Budget Talks site who said they were interested in participating further. We made sure that these panels were representative of Ontario's population, and that nobody faced barriers to participating.
For a full day, panelists discussed and considered ideas that others had submitted online. Their recommendations produced the list that was put forward for a final public vote.
How panelists made their recommendations
We wanted to make sure people had time to read, think and discuss ideas before coming to their final recommendations. Each workshop reviewed a list of 82 ideas that we determined had met the submission criteria. Their job was to help us prioritize these ideas, and help whittle them down to a shortlist for public voting.
Workshop activities were the same for each panel in the four cities: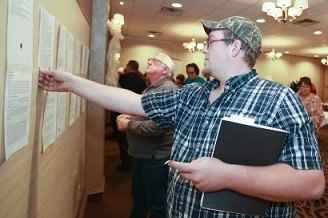 Developing evaluation criteria: We asked panelists to agree on how ideas would be evaluated. As a group, we defined how we would rate each idea on three criteria: inclusivity, reach, and importance.
Inclusivity: Is it possible to apply this idea in a way which can include Ontarians who might otherwise be excluded or marginalized?
Reach: To what extent does the idea have the potential to impact a significant number of Ontarians?
Importance: Overall, how important do you think this idea is to Ontarians? Consider its impact on your community, your region, or to the entire province.
Reading, discussing and rating ideas: We organized panelists into small groups to read and discuss each idea, agreeing on ratings for each. Each group had to evaluate a quarter of all the ideas.
Presenting the short list: Once they had counted their scores, each group presented their top ideas to the larger group. They shared their thoughts on why they rated these ideas highest against the three criteria.
Voting - Everyone in the room was given ten stickers which they could use to vote for the ideas they think should proceed to the next stage. All the top ideas from the tables were put up on the wall for people to read and consider.
Final recommendations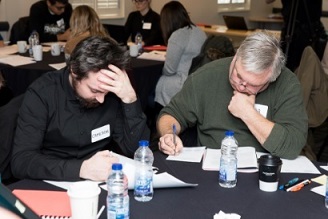 At the end of the workshops in the four cities, we tallied the votes and sorted the ideas from most to least votes. The Government then selected the final list for voting from among the top 16 ideas recommended by the panelists.
The Government deemed these ideas to be consistent with the submission criteria and with the government's priorities. The Government also took regional preferences into account when creating the top list.
This is the list which we put to a final public vote. Voting ran from January 10, 2018 to January 26, 2018. Shortly thereafter, the successful ideas get announced, and periodic updates on their progress get made throughout the year.
Here is a summary of the top ideas recommended by the participants, ranked by total:
| Rank | Idea Name | Total votes | Government's decision |
| --- | --- | --- | --- |
| 1 | Research study to reduce food waste from retailers | 93 | Will proceed |
| 2 | Increase access to support for people with Autism | 51 | Will proceed |
| 3 | Increase access to healthy food in Northern Ontario | 44 | Will proceed |
| 4 | Cargo cruisers to deliver the goods of small businesses | 43 | Will proceed |
| 5 | Temporary mental health support clinics | 37 | Will proceed |
| 6 | Seniors provide reading and writing support for students | 35 | Will proceed |
| 7 | Earlier introduction of French language classes to students | 35 | Will proceed |
| 8 | Edible garden program in elementary schools | 31 | Will proceed |
| 9 | Supervised housing for people with mental health issues | 31 | Will proceed |
| 10 | Preserve the stories of Ontario's seniors | 28 | Will proceed |
| 11 | Online mental health support for Aboriginal youth | 27 | Will proceed |
| 12 | Increase mental health programs for students | 26 | Will proceed |
| 13 | Food education for kindergarten and elementary students | 25 | Will proceed |
Want the full dataset describing the results of the public workshops?
Who we recruited
Panelists were recruited from the list of people who registered on the Budget Talks website. We screened people who said they were interested in participating, to ensure panels were broadly representative of Ontario's population. Here are the demographic breakdowns of the panels:
Age
Gender
Location
Income
Feedback from panelists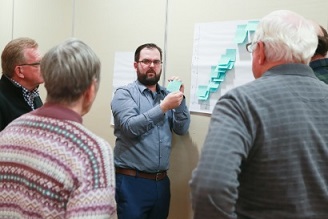 We surveyed panelists before and after the events, to gauge their satisfaction and gather feedback about how to make the process better in future. You can read the summary below, or send us an email at financecommunications.fin@ontario.ca if you would like to obtain a copy of the final evaluation report.
For many panelists, this was their first time participating in a public consultation, and the vast majority had not participated in Budget Talks in the past. When asked why they chose to be a part of the consultation, they told us that they wanted to learn and contribute to the budget process.
Many saw their involvement as being an act of citizenship, and felt that they were being given an opportunity to help influence a part of the Ontario budget, even if it is a small part. Some participants felt they should have been given more information to help make their decisions. A few said that they found the quality of proposals to be lacking.
Overall, 84% found their participation to be meaningful, and most found that the sessions were constructive, respectful and valuable. A majority felt they had learned more about issues affecting their communities.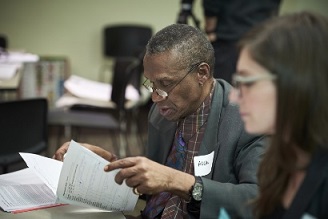 We asked panelists to explain in their own words why they wanted to be a part of the Budget Talks consultation. Below are a selection of quotes from participants who answered this question.
I think that it is a crucial component to a functional democracy to have the voice of the citizenry heard by those in positions of policy-making and authority. By directly consulting with the public, the government can assess and reach a far more accurate representation of the will of the people at large. These budget talks are a strong symbol of democracy. Panelist in London
I believe in participatory decision-making and civic engagement and would like to offer my input and thoughts on Ontario's budget since it will impact me, my family, and my community.Panelist in Toronto
I believe that the government consultations can only succeed if more individuals participate to share concerns, discuss issues, and clearly suggest solutions based on personal experiences.Panelist in Sudbury
I participated to give back [and hold] my civic responsibilities seriously.Panelist in Ottawa